Welcome too our cars and trucks nitro section. this is where you will find the big boys toys from
the best in the business brought too you by irelands largest off road and fun shop. we strive too
bring you the latest and greatest in fun and excitement.
UNLIKE High street stores we have test facilities
WE also do repairs
models and stock changing daily from the latest upgrade or the freshest design. keep checking back too see whats happening in our world of extreme fun.
WE DO many other models and are main dealers for TRAXXAS and HPI if you want to look at manufacturers web site
TRAXXAS NITRO T - MAXX 33 the legend last 15 YEARS €625.00
SCREAMING NITRO POWERED SOUNDS LIKE A F1 CAR
THIS TRUCK WOULD JUMP A TRANSIT VAN
ELECTRIC START
COMES WITH TELENTARY FOR YOUR MOBILE PHONE
4x4 monster truck fun starts with T-Maxx.
When T-Maxx launched onto the scene a whole new world of R/C driving possibilities emerged. T-Maxx has become the world's best-selling Ready-To-Race ® nitro monster truck by climbing, jumping, and ripping through terrain that others simply wouldn't dare to attempt.
Hardcore nitro monster crushing continues to evolve and so does T-Maxx. Introducing the T-Maxx 3.3.
This brutal Maxx responds to the call with a huge stance; tough backbone; and wicked, tire-searing performance. T-Maxx brings it all together and unlocks a whole new level of ­ monster thrashing ­ potential. Go ­faster, jump higher, and let your creativity find new forms of torturous off-road pounding. The T-Maxx 3.3 is stronger, bigger, and meaner right down to its monster core.
The World's Most Advanced Ready-To-Race ® Radio System Now Connects Wirelessly to the Traxxas Link App
The Traxxas TQi paired with the Traxxas Link app is the most advanced, feature-rich, Ready-to-Race ® radio system available. Now, TQi connects wirelessly to the latest Traxxas Link app for the ultimate in ease-of-use and control. The TQi radio system can be equipped with the Traxxas Link Wireless Module to unlock exciting features such as instant Bluetooth ® connectivity; access to the full range of powerful TQi tuning and telemetry tools through an intuitive high-definition graphical interface; and the ability to have a friend remotely monitor real-time telemetry while you focus on mashing the throttle. Your co-driver can even make adjustments for you, remotely, while you drive. No other radio system can do that. Just like the speed and performance Traxxas engineers into the vehicles, the power and capability of TQi and Traxxas Link expands your fun into all-new territory. Only from Traxxas
Maxx-Sized Stance
The T-Maxx 3.3 is the biggest Maxx ever. Giant Maxx tires deliver massive grip off-road and at 6.3" tall, they add increased ground clearance to gobble up deep ruts and overcome huge boulders (be sure to check out the videos!). In the city, urban obstacles such as curbs and stairs beckon for an all-out Maxx assault. Maxx tires come pre-glued to 3.8" Mirror-Chrome Hurricane wheels. Traxxas engineers equipped the T-Maxx 3.3 with an extended wheelbase (30mm longer) for maximum stability. T-Maxx is able to put more power the ground for even more acceleration and amazing directional control. There's no skimping when it comes to the chassis. It's formed from 4mm thick 6061-T6 aluminum and then anodized in brilliant blue. Meaty chassis braces and a rugged skid plate add rock-solid rigidity.
QUICK FEATURES ON T-MAXX 49077-1
Ready-To-Drive ® with included NiMH receiver pack and EZ-Start battery, chargers, fuel-filler bottle, spare glow plug, precision tools, and more!
NEW TQi 2.4GHz Transmitter with Traxxas Link Wireless Module and Receiver
Factory installed telemetry sensors
Extended chassis, heavy-duty chassis braces, and transmission skid plate
Polished Resonator two-chamber aluminum pipe
Large high-volume dual-stage air filter
Tunable, sealed Revo-Spec front and rear differentials
High-torque digital steering servo
Heavy-duty servo saver and bellcrank steering system
Aggressive 6.3" Maxx-sized all-terrain tires
Mirror-Chrome 3.8" Hurricane wheels
Revo-Spec two-speed transmission and center driveline
Supersized Maxx body with fresh paint!
Before the TRX 3.3 Racing Engine, drivers had to give up the convenience of their EZ-Start
®
, the easy tuning characteristics of their Traxxas engine, Traxxas support, and too much of their hard-earned cash to try and experience any horsepower increases from the aftermarket. The TRX 3.3 Racing Engine is the solution that brings it all together with extreme horsepower that is second to no one; easy tuning; full Traxxas reliability and support, including the
Lifetime Engine Replacement Plan
; and the pure convenience of one-touch, push-button, EZ-Start electric starting.
Only the Traxxas EZ-Start offers the pure convenience of true one-handed operation and complete on-board, push-button electric starting.
EZ-Start is the safest and most reliable way to start your engine.
The Traxxas EZ-Start lights your glow plug and starts your engine quickly and smoothly at the push of a button. Traxxas' exclusive Smart Start technology monitors critical starting functions, automatically sensing and diagnosing potential problems for trouble-free engine starting every time! Once you've used EZ-Start you'll wonder how you ever enjoyed a nitro engine without it. Click on the "
details
" tab at the top of this page to see all the additional design features that make the T-Maxx 3.3 a GIANT amoung monsters trucks.
HPI BLACKOUT GIANT 1/5 SCALE AND 4 WHEEL DRIVE €895.00
AS BIG AS GETS SERIOUS FUN
FUULY BUILT READY TO GO FROM THE BOX
SERIOUS VALUE TRUCKS LIKE THIS CAN GO FOR €1300.00
FULL EXPERT ADVICE AND BACKUP
THE ULTIMATE BIG BOYS TOYS A real 30 cc petrol engine remote control TRUCK
4 Wheel drive HPI Blackout
SUPPLIED ready to run from the box
NO nitro just straight forward unleaded petrol and 2 stroke
PICTURE beside kids quad gives you an idea of the size of this truck
LONG running times just fill up with petrol and off you go
BUILT like a tank and no matter what damage you do full spares back up by muckandfun.com IRELANDS largest off road shop by far with over 200 quads - buggies - Mx bikes - Supermoto - mini moto - Jet skis - Evo Powerboards
SHAFT driven
SIMPLE pull the chord and away you go
feature a 2.4GHz radio system for glitch-free driving with any number of other RC vehicles - you'll be able to drive all day long with your friends or other racers!
Extra-thick suspension arms and shock towers, extra-long shocks, extra-strong bumpers and other chassis parts all help ensure you won't miss any action out on the track!
Extra-powerful steering
Smart large scale design with oversized suspension and chassis components
EVERYTHING about this truck is huge
WE are also main dealer for hpi and Baja
NEED any more info or help and advise please let us know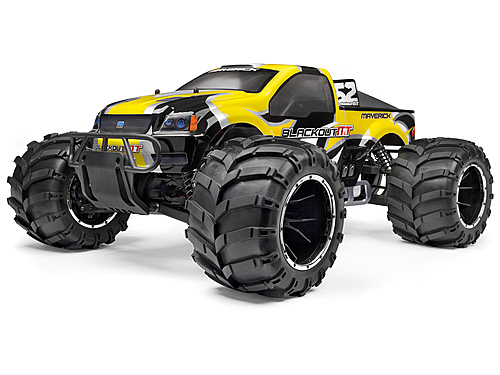 Feature Summary:
Large scale size - nearly 1 metre long!
Full-time 4WD power
30cc pullstart petrol engine uses normal pump petrol
High RPM durable clutch
Huge multisurface beadlock tyres
Fantastic new paint scheme
2.4GHz radio system
Extra-powerful steering
Smart large scale design with oversized suspension and chassis components
BAJA 5B 2.0 RTR WITH D-BOX 2 €1275.00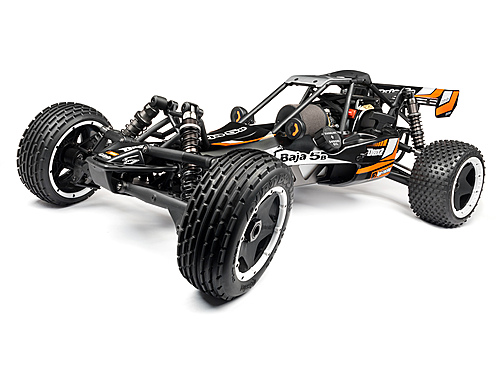 Large Scale Baja Fun with Total Control!
Take command of the biggest buggy available from HPI Racing, now fitted with HPI's exclusive D-Box 2 tech! The Baja 5B is huge, powerful and ready for action, and with the amazing D-Box 2 you'll be in full control of this massive 10kg (22 lb) beast anywhere you go! With a mighty 23cc 2-stroke engine powering the huge, rear-wheel drive Baja 5B buggy, you can easily hit speeds over 30mph!
The Baja 5B is fitted with externally adjustable VVC/HD shock absorbers on all four corners and a super-tough, high torque large scale metal gear steering servo. It's got our ultra-reliable 2.4GHz radio system, big battery pack powering the steering and throttle servos plus a battery charger, so you're ready for instant Baja action! The radio box is also fitted with the #105409 D-Box 2 Adjustable Stability Control System that will give you total confidence at any speed, on any kind of terrain you're driving on. It's perfect for driving on slippery surfaces with a powerful rear-wheel drive car like the Baja 5B, because you can change its sensitivity to make the car more stable as it's cornering or help it kick out the rear end for awesome drifting action!
The Baja 5B also features an extra-thick monocoque aluminum chassis, 700cc fuel tank for up to 45 minutes of driving before refueling, painted body in an all-new design and pre-mounted wheels and tires so you are ready to rock! The Baja 5B has the huge size and amazing looks that will amaze your friends, and now it's more controllable than ever, thanks to the awesome D-Box 2!
The D-BOX 2 is your Secret Weapon for perfectly controlled driving!
The D-Box 2 is a fantastic electronic aid for drivers of all skill levels, in any kind of RC car, on any kind of driving surface. Whether you take your Baja 5B out on grass, loose dirt, mud or ultra-grippy clay, you will get perfect control thanks to the magic of HPI Drift Assist technology! The super-small D-BOX 2 simply connects between the receiver and steering servo for an amazing difference in your driving performance!
The D-BOX 2 has an amazing feature that improves response over other driving assistance systems when the gyro sensitivity is increased (Patented steering operation priority system) using the provided Mode switches. This new priority system allows the steering inputs from the transmitter to have priority over the gyro. While the D-BOX 2 is perfect for all types of vehicles, this gyro correction is seen the most when used in high-powered off-road cars: increasing the throttle will not spin the car out, even in slippery conditions! The D-BOX 2 will also prevent sliding in sudden braking or steering.
The Baja 5B now also features the new TF-45 radio system - a 3-channel, 2.4GHz radio that has all the most-desired features experienced RC drivers crave. Among its many features are Frequency-Hopping Spread Spectrum (FHSS) digital 2.4GHz radio technology, end-point adjustments and electronic failsafe protection, plus dual-rate, trim and reversing functions. It's also lightweight and comfortable thanks to its drop-down steering wheel, changeable grip size and padded steering wheel.
The Baja 5B uses a unique chassis design that has inspired imitators and pretenders that are still trying to dethrone the Baja from the top of the heap. The extra-thick Baja monocoque aluminum chassis is formed from strong 6061 aircraft aluminum for light weight and strength, then bent into shape with computer precision to make it into an extra-rigid and super-strong platform for the engine, suspension and all other components of the Baja.
The engine fitted in the Baja 5B features extra power over earlier Baja engines, and when combined with the High Flow Muffler and 8000 RPM clutch, you'll experience extra-fast top speeds and jaw-dropping acceleration for more fun! The High Flow Muffler from the Baja 5T is a much larger capacity design than the old standard muffler, and is tuned to give you more horsepower on the track. It sounds fantastic, too! When the Baja 5B is ripping past you, you will know it!
Features
Factory-assembled Ready-To-Run large scale gas-powered buggy
Fitted with #105409 D-Box 2 Adjustable Stability Control System
Latest Heavy-Duty drivetrain option parts installed
Brand new body paint design
2.4GHz FHSS radio system with failsafe
Extra-thick aluminum monocoque chassis
Powerful 23cc 2-stroke engine
Torx T27 engine screws
700cc fuel tank provides 45 minutes of driving
High flow muffler
8,000 RPM performance clutch
VVC/HD externally adjustable shock absorbers
Long-travel extra-durable suspension
Viscous torque differential
All-terrain racing tires
Super-durable real beadlock wheels
Long wheelbase
Enclosed radio box
External battery charging plug
Adjustable heavy duty racing rear wing
Durable roll cage protects engine
Gunmetal anodizing for super-cool looks
Complete set of ball bearings
100cc of 2-stroke oil included
6V 3000mAh receiver pack and wall charger included
4 AA batteries for transmitter included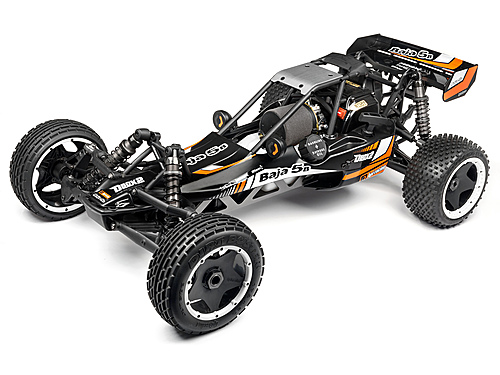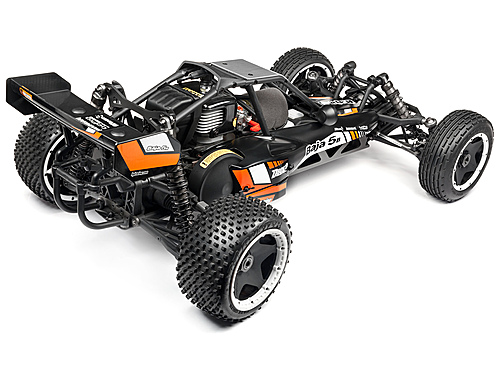 BAJA 5SC RTR (MAT BLACK) €1525.00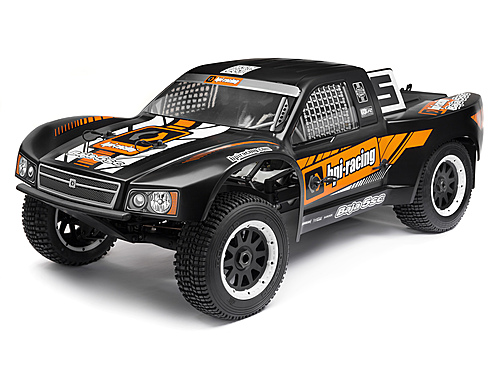 Updated for 2017, with a new look and a new engine!
With the new matte black and matte silver color schemes, the Baja 5T racing truck has an updated look that is menacing to your racing competition yet stylish enough to display in your garage! The new color designs have all the hallmarks of an instant classic, while underneath the body our designers have been busy with the details of a brand new engine!
The new engine has all the same features as the original Fuelie 26, but now it's got a bit more power, and all of the standard and option engine parts from the previous engine will also bolt right on, so it's easy to maintain and upgrade!
With the Baja 5SC large scale truck, you can instantly jump into the thrill of Short Course racing! The Baja 5SC takes the HPI Baja line-up to the next level with a new SC-1 body that gives the Baja 5SC authentic Short Course looks. Adding to the durability and realistic looks is a new skid-plate front bumper and a large rear bumper with real rubber mud flaps. Power comes from a massive 26cc Fuelie engine that propels the Baja 5SC to speeds in excess of 40mph and it runs for more than 45 minutes on a single tank of regular unleaded pump gasoline. For extra traction on any dirt surface, HB Rodeoo tyres are now standard equipment, mounted on new TR-10 bead-lock truck wheels. We increased durability with Super Heavy Duty 9mm drive shafts, updated rear hub carriers, and HD front hex hubs. A 2.4GHz radio system is standard equipment for precise control and long distance reception without the hassles of frequency crystals. It's all ready-to-run right out of the box, pre-assembled by our expert crew so you can hit the dirt quickly.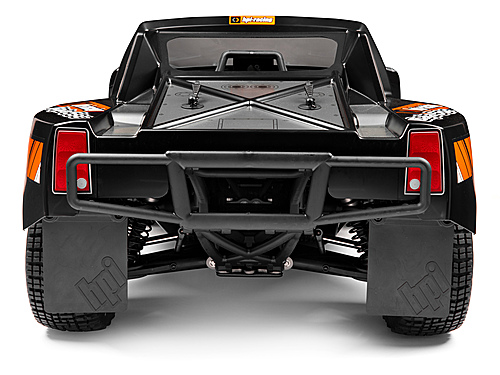 CHASSIS
PROVEN TOUGH CHASSIS BASED ON THE AWARD-WINNING BAJA 5B SS
New Baja Short Course Parts
The Baja 5SC is fitted with a wealth of awesome Short Course parts that make it ideal for tackling off-road tracks shoulder-to-shoulder with hordes of other racers. Check 'em out!
New Short Course Body
New Heavy Duty Front Hubs
HB Rodeoo Short Course tyres and New TR-10 Wheels
New Front & Rear Short Course Bumpers
New Adjustable One-Piece Rear Hubs
Super Heavy Duty Parts
Because of the ever-increasing power demands of Baja owners around the world, and the constant desire to cram as much power in the Baja chassis as possible, we've added all-new SUPER Heavy Duty drivetrain parts that will make sure the Baja 5SC can handle extreme conditions and massive power!
Super Heavy Duty Drive Shafts - All-new extra-thick 9mm dogbones are the starting point of the 5SC drivetrain upgrade - these are new, thicker and stronger to outlast the roughest rides and racing action you can find! New wider rubber boots are included to keep the dirt and mud away.
Super Heavy Duty Diff Shafts - Getting the power from the diff gears to the new dogbones is a wider diff shaft that perfectly fits the increased diameter of the dogbones.
Super Heavy Duty Drive Axles - The Baja 5SC is fitted with new Super HD drive axles to get power to the rear wheels, which fit the thicker dogbones.
Baja 5SC Features:
Fuelie 26 Engine - Top Speed 40+ MPH!
Viscous Torque Diff
All Metal Gear Transmission
8,000 RPM Clutch
Long Travel Suspension
Heavy Duty Shock Absorbers
Dual Vented Disc Brake
Large 700cc Fuel Tank
SFL-11MG Servo
Sealed Radio Box
Dirt Guards
3000mAh NiMH 5-Cell Receiver Battery
HIGH QUALITY ELECTRONICS
TF-20 TRANSMITTER and RF-30 RECEIVER
RTR - PERFORMANCE STRAIGHT FROM THE BOX
Full Assembly Instructions and HPI RC Cars DVD
HPI makes it super-easy to get into large scale! The Baja 5SC is completely pre-built, painted and assembled right out of the box, so hitting the dirt is fast and easy! All you have to do is open the box, add AA batteries to the transmitter, charge the receiver battery, add 25:1 pre-mixed fuel and go! As with all HPI cars and trucks, you get a full, in-depth instruction manual with step by step instructions that allow you to easily disassemble and reassemble your truck for maintenance and easy servicing.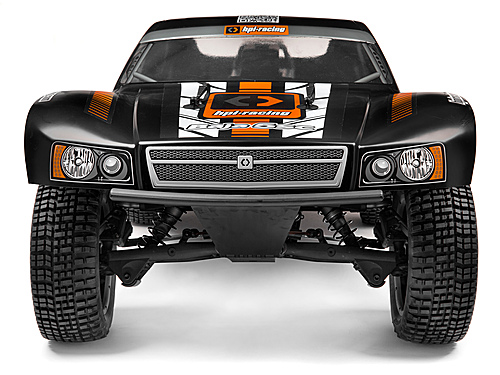 HPI RACING BAJA 5SC
RTR 1:5 SCALE PETROL 2WD SHORT-COURSE TRUCK
#109964 RTR Baja 5SC with 2.4GHz radio
SPECIFICATIONS:
CHASSIS LENGTH: 900mm
WIDTH F/R: FRONT 440mm / REAR 460mm
HEIGHT: 320mm
TRACK F/R: FRONT 370mm / REAR 380mm
WHEELBASE: 570mm
WEIGHT: 12.6kg / 27.9lb (without fuel)
What You Need:
Pump Petrol
2 Cycle Engine Oil
5 Litre Fuel Can
6 AA Batteries
Stick Battery Charger