THIS IS OUR BUDGET RANGE THERE IS OTHER SECTION FOR PREMIUM RANGE CLINK PICTURE OR CHECK THESE OUT
THIS IS THE BEST SELLING QUALITY VALUE FOR MONEY IN IRELAND + UK
ONLY €395.00 OR order today next day delivery natiowide (as it arrives to you built tested ready to go )
Not to be confused with the rubbish sold by other people from mobile phones or mail order - These are the original high quality best built there is
FREE SANTA SAVINGS CLUB BY . PAY IN STORE OR IF YOU ARE FAR AWAY OVER THE PHONE BY CARD OR BANK TRANSFER
NEXT DAY DELIVERY ANYWHERE IN IRELAND .
QUAD ARRIVES BUILT TESTED READY TO GO
UNLIKE SHOPS SELLING BAD QUALITY WE BACK UP WAHT WE SELL FOR LIFE
20 YEARS IRELANDS NUMBER 1 FOR VALUE
FREE FIRST SERVICE AND FREE SECOND
COST PRICE ON ANY GEAR YOU MAY NEED
OFTEN COPIED NEVER MATCHED
WE ARE HERE ALL YEAR ROUND FOR FULL BACK UP
TWO FREEE SERVICES ALL MACHINES
RENEGADE 50 cc KIDS quad (WARRANTY-DELIVERY-VALUE-DESIGN)
SERIOUS VALUE ONLY € 495.00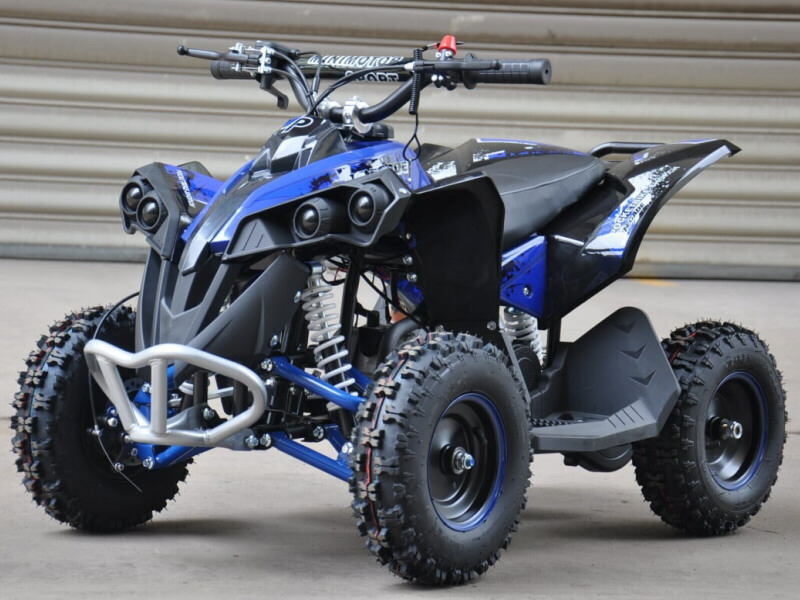 ARRIVES TO YOU BUILT TESTED - READY TO USE OR COLLECT IN STORE 6 DAYS
ALL NEW MODEL OF OUR FAMOUS QUADARD
OLDER MODEL IN VIDEO MUCH DIFFEERENT NOW BUT GIVS YOU AN IDEA
WE have taken this entry level quad to a whole new LEVEL
WE are the only shop to offer this on quad of this price : 1 YEAR WARRANTY PARTS AND LABOUR - FREE 2 SERVICES USE ANY TIME - FREE INSTRUCTION ON HOW TO USE - FREE PHONE HELP FOR LIFE
THIS quad is packed with features never seen at this price level
ITS also got the latest styling and we love it
HAS speed regulator to slow to walking page
Thumb throttle (to protect the riders wrist) just like large Quads
Key Switch Ignition so kids can use cant use when your not here
Improved easy pull start mechanism
Larger 6″ wheels for better off-road ability
Independent Front and Rear disk brakes
Safety Cut-Off Tether
Speed can be restricted for inexperienced riders
Enclosed Chain Guard
Stronger Frame
Durable New Style plastics
Fully Automatic rev 'n' go
Transmission: Chain drive
Starting System: PULL start (Easy Start) makes it simple to get going
Light and small enough to fit in a car
GREAT VALUE EASY WAY TO GET KIDS QUAD BIKING ON A BUDGET
RENEGADE Kids Electric quad (QUALITY-VALUE-SPECK-DESIGN) € 550.00
SAME AS OUR PETROL VERSION OF THIS QUAD
SIMPLE SAFE EASY TO USE WITH SPEED REGULATORS
THIS is a professional kids quad designed to perform like our petrol its not a smiths toy store built to last for years and years
This Renegade 1000W 36V Electric Quad bike as plenty of power to keep the kids happy but is whisper quiet to keep the neighbours happy too
Quad bike has a choice of three maximum speed settings that can be selected by the parent
HOME delivery only € 60.00 and unlike other sellers arrives built tested and ready to use WE even give a full 1 year parts and labour warranty
The Renegade 1000W 36V Electric Quad bike has a steel frame construction with front (double A swing arms) and rear (mono) shocks there are front and rear disc brakes, large wheels and just to add the cherry on top it's 3 speeds. The Renegade 1000W 36V Electric Quad bike is the full package and is perfect for children that are new to quads as well as the more experienced rider.
1000W 36V Brush Motor
Transmission: Chain
Frame: Steel
Battery: 3 X 12V 12AH Lead Acid Battery
Charger Included
3 Speed Settings
Front and Rear Disc Brakes
Front Double A Swing Arm Shock
Rear Mono Shock
Wheels: Front – 4.10-6 Rear – 13×5-6
Seat Height: 47cm
EVEN adults have bought and use these shows how strong they are
BARTON Xtr 125 Kids+Adults QUAD (FINANCE-DELIVERY) € 1195.00
VALUE WISE EXCEPTIONAL KIDS AND ADULTS CAN USE
THESE QUADS BLEW US AWAY WHEN THEY ARRIVED LOOK AMAZING
LOADS OF FEATURES AND SPECK LOVELY SIMPLE EASY TO USE
SPECIAL offer on our all Barton xtr 125 quad
FINANCE over 1 ,2 or 3 years as low as € 10.83 per week
SUITS the whole family just the right side for kids and adults
LOOKS even better in real life
FULL 1 year parts and labour warranty
LOADS of speck
125 FOUR stroke engine
HAS reverse makes life handy
LIGHTS
REAR grab bars
FRONT bull bar
SPEED regulator so young kids can use
ELECTRIC start
FRONT hand guards as standard
HIGH quality plastics
NERF bars fitted for foot protection
BIG Mx style handle bars and pad
THE speck of this goes on and on lovely quad
THIS IS THE BEST SELLING VALUE FOR MONEY QUAD IN IRELAND + UK IN OUR VALUE RANGE
QUADARD ECO
ONLY €395.00 OR order today next day delivery natiowide (as it arrives to you built tested ready to go )
GREAT VALUE FOR MONEY
BEST SELLER 10 YEARS NOW
LOADS OF features
Restrictable Throttle to walking pace so very safe
Full length Chain Guard
Front And Rear Suspension
Knobbly Tyres
Split Rim Alloys
Front and Rear Disk Brakes
2019 VERSION
HAWKMOTO CHEETAH 125 Quad (1 year warranty 4 kids+adults) WAS € 1295.00 NOW € 999.00
GREAT SIZE QUAD FOR ALL THE FAMILY TO USE
LOTS OF SAEFTY FEATURES AND YOU CONTROL THE SPEED
LARGER than normal so suits kids and adults the whole family can enjoy this one
VERY high speck and loads of safety features
LOADS of power but you have a speed regulator to slow to less than running pace making it safe for all
CARRIERS front and rear
1 YEAR warranty
HAS lights front and rear
CHAIN guard
NERF bars for your feet and safety
COMES with a FREE battery charger for when you leave quad up
HAS gear indicator on dash for F - Neutral - Reverse
COMES with safety nerf bars for your feet to protect them
FOUR stroke with electric start
FULLY auto so simple to use
PART OF THE BIGGEST RANGE OF QUADS IN IRELAND FROM muckandfun.com
HAWKMOTO WASP 110 cc Kids quad € 850.00
NEW RANGE TO OUR QUADS
STUNNING KIDS QUAD LOADS OF SAFETY FEATURES

AWKMOTO Wasp 110 cc Kids quad
UNIQUE in that its strong and fast enough for normal adult to use BUT best of all has speed regulator to slow right down
NO weight limit within reason
STUNNING quad to look at real cool styling and finish
COMPARED to Yamaha and Suzuki which we sell for € 2500.00 these quads have better performance and features by a long way
COMES with hand guards only one in our range with these
VERY high quality plastics and graphics
REAR disk brake and twin drum on front
1 YEAR warranty
SAFETY lanyard on handle bars
FULL safety footwells
BIG front bumper
LIGHTS
HAS reverse comes in handy
FULLY auto simple to use
FOUR stroke engine
POWER coated frame
REAR chain guard
LOADS more lovely kids quad the whole family enjoy
NEW 2017 Nifty Fifty 50 (mark2) only €640.00
NEW MODEL OF LAST YEARS BEST SELLING NIFTY FIFTY
DESIGNED AND BUILT BY US IN WICKLOW
BULLET PROOF LAST A LIFE TIME
SERIOUS VALUE FOR MONEY
FULL LENGTH CHAIN GUARD
SIMPLY the best value and quality from IRELANDS number 1 off road shop
THIS is our all new Nifty Fifty mark 2 full price is €850.00 mega offer
LAST years number 1 now all new for this year
WE improved upon last years number one selling nifty fifty
DESIGNED by us with Kxd in Germany and built by us in Wwicklow town
FOUR stroke low noise engine
DISK brakes
BEST of all speed regulator you can slow it down to walking pace
ONLY ship to offer full 1 year warranty
WE have over 20 years experience in kids quads
ENCLOSED chain
ENCLOSED safety foot wells
NEW FOR this year carriers front and rear
FULLY automatic JUST press and go
NO Weight restrictions speaks about the strength of this quad even an adult can ride it
SUITS ages 4 to 10 aprox depending on size
WHEN ever you need a bigger one we take it back as a trade in only shop in Ireland offers this level of back up
YOU get two free services
YOU get cost price on gear to go with your quad
ORDER today get tomorrow
WE are IRELANDS largest off road shop by a long way with over 200 quads - buggies - jet skis - mx bikes - it bikes on display at all times massive range
BUYERS beware this year there is plenty of pop up shops this time of year will sell you a quad and disappear after Xmas
BEWARE fake copies of our quad
--------------------------------------------------------------------------------------------------------------------------------------------------
SMC SCOOT 50 cc 2 YEAR WARRANTY ONLY € 1295.00 (FINANCE)
BUILT TO LAST A LIFE TIME
TOP OF THE RANGE QUAD AT A GREAT PRICE
STUNNING BUILD QUALITY AND DESIGN
Who are SMC, and why should I buy their products?"
•SMC is one of the world's longest established ATV manufacturers
•Taiwanese built
•2-year parts and labuor warranty on all models
•Time proven 2 stroke engines
* Full parts supply
•Models to suit all ages
COMES with two restrictions for safety so they can learn and you decide the speed
ELECTRIC and kick start backup
SAFETY lanyard
FULLY enclosed footwells
LIGHTS
TRAINING rope to the rear
THIS kids quad covers everything you need
PART of our SMC quad range which includes our Hornet 100 and Scout 90
----------------------------------------------------------------------------------------------------------------------
SMC SCOUT 90 cc KIDS quad (2 year warrantyFINANCE) € 1550.00
TOP OF THE RANGE AT A GREAT PRICE
PACKED WITH FEATURES
Who are SMC, and why should I buy their products?"
•SMC is one of the world's longest established ATV manufacturers
•Taiwanese built
•2-year parts and labuor warranty on all models
•Time proven 2 stroke engines
* Full parts supply
•Models to suit all ages
The SMC Scout 90 features a simple 90cc engine which is fully restrictable to help learning and improve confidence
Once the rider becomes confident the Scout can be released to full power, Other key safety features include fully enclosed footwells.
The SMC Scout 90 is fitted with electric start and back up Kickstart
REAL working headlights
The Scout 90 is the natural progression from the smaller SMC Cub 50 AND we also do an over size 100 cc called smc Hornet
SAFETY footwells
SUPERB build quality designed to last a life time
BIG enough and strong enough for Mam and Dad to use
HOME delivery € 60.00
WE take deposits
FINANCE from € 13.44 per week
ALL NEW ORION MIKRO 70 CC €850.00
1 YEAR PARTS AND LABOUR WARRANTY VERY HIGH SPECK AND BUILD QUALITY
SPEED REGULATOR TO WALKING PACE
LOTS OF SAEFTY FEATURES
STRONG enough that even mam and dad can use
AMAZING value for quality like this
BEING 70 cc there is a nice bit of get up and go so when they get the hag of the quad you can speed up . Full speed will allow sides ways fun - Jumps a proper quad bike BUT you can still slow it down to walking pace
FOUR stroke engine
ELECTRIC start
THERE is also a safety lanyard attaches to them and cuts out the engine if anything goes wrong
FULLY enclosed safety foot wells
TOP speed up to 30 MPH but remember you can slow to 5 mph or less . At least there is full power so they can grow with the quad
Wide axles & low centre of gravity for added stability making it safer
Front & rear brakes
LIGHTS front and back
BUILT like a tank to last a life time
THIS QUAD HAS TAKEN 100 % OF SALES AWAY FROM OUR SUZUKI LT 50 WHICH IS €3500.00 NEW
--------------------------------------------------------------------------------------------------------------------------------------------------------
ALL new THUNDERSTARTER 110 cc Kids quad only €850.00
AMAZING VALUE CONSIDERING A NEW SUZUKI IS €3600.00
STUNNING BUILD QUALITY
SPEED REGULATOR FROM WALKING TO 40 MPH YOU DECIDE
BUILT AND TESTED IN WICKLOW BY US
UNIQUE QUAD ADULTS CAN USE AND KIDS
110cc Quad Bike Features
110CC, Four stroke Auto (Rev 'n' Go)
Electric Start with Key
Lights Front & Rear
Big Bull Bar
Fully Enclosed Safety Foot Wells
Rear Parental Safety Tether.
All Black Frame
With front double drum brake + rear Hydraulic disc brake
With full chain cover for safety
With front double suspension + rear single suspension
3mph - 40mph (Restrictable)
Dual Adjustable Front Shocks
Adjustable Rear Shock
Size: 117cm x 81 x 76
Weight 71Kg
Mini 110cc Quad Bike Thunderstarter 4 Stroke with Electric Start
This 110cc Quad Bike has more power and is intended for older kids or more experienced youngsters and adults as they can carry a massive 100kg.
Although the power can be restricted when necessary, having more power available when required means they will not be outgrown and therefore last longer making this quad a good longer-term investment.
muckandfun.com have a wide range of Quad Bikes and Mini Quads all built to European safety standards. Whether for just mucking about down the lanes and across the fields or for competition use these quality Quads are now available at a really affordable price.
Your kids cannot fail to be impressed by the performance of these machines.
Quality built to European safety standards these 110cc Quad Bikes not only look fabulous but have all the features you need for a proper Quad.
First it has the power, the 110cc engine extends the appeal of this Quad to older children, there is nothing more disappointing than to find that the Quad which seemed to have plenty of power when you first started driving now simply wont deliver as you get more skilled and need to push it harder.
The 110cc Quad bike has much more power and torque, enough in fact to propel most adults, but don't forget this can be restricted for those who need it. So as your child gains abilities they won't outgrow this Quad's abilities, making this bike a good longer-term investment.
ADULT DRIVING QUAD IN VIDEO
------------------------------------------------------------------------------------------------------------------------------------------------
NEW MODEL QUADARD PRO 4 STROKE € 640.00 amazing quality for the price
NEW VERSION OF OUR FAMOUS 2 STROKE QUADARD
NOW ELECTRIC START
OUR all new for 2018 is our FAMOUS 50 CC QUADARD Pro
CARRIES on next step up from our famous Quadard two stroke for €450
.00 which is still available
NOW four stroke
ELECTRIC start
1 YEAR parts and labour warranty
SOOTH low noise engine bullet proof built to last !!
FULL speed regulator slow from walking pace to full speed
NOW has lights
DISK brakes
SAFETY foot wells
HAS training rope to the rear so you can walk behind them and kill the quad when ever you want
FRONT Bull Bar
FULL length chain guard
ALLOY wheels
SAFETY foot wells
BUILT by us in Wicklow
GREAT way to start them quad biking at an affordable price
HIGHLY RECOMEND THIS QUAD HANDS DOW OUT PERFORMAED A € 2500.00 SUZUKI QUAD
---------------------------------------------------------------------------------------------------------------------------------------------------
KIDS Quad 110 cc STRIKE €850.00 FOUR stroke kids quad
GREAT ALL ROUND FAMILY QUAD
FAST QUAD BUT YOU CAN SLOW TO FAST WALKING SPEED
1 YEAR PARTS AND LABOUR WARRANTY
COMES WITH REFVERSE
THE all new MUCKANDFUN Stryker 110 cc KIDS quad
GREAT value for money full price is €999.00
PERFECT all round family quad : BEING 110 cc has lots of power for experienced riders or even Mam + Dad to have fun on . BEST of all has a speed regulator you can slow to fast walking pace to keep the kids safe
BUILT to our speck and assembled in Wicklow by us GIVE you industry leading warranty of 12 months parts and labor guarantee
LOADS of safety and great speck
TRAINING rope to the rear
LIGHTS for night time and safety
QUALITY colour coded suspension
POWDER coated frame with machine A arms
REAR disk brake with TWIN front Drum brakes
HAS reverse
FULL Safety footwells
BLACK wheel with quality tires
REAR skid plate to protect
---------------------------------------------------------------------------------------------------------------------------------------------------------------------------------
MEGA Value ORION SNIPER 125 Sports quad €1450.00 now only €1299.00
A BRAND NEW SPORTS QUAD FOR THIS PRICE IS MEGA VALUE
LOOKS UNREAL EVEN BETTER IN REAL LIFE
OUR all new for 2018 ORION SNIPER 125 Sports quad
NEVER before has a quad of this size - value - speck - performance being offered in this price range
NO more buying old used abuse Yamaha Honda quad for even dearer prices than this quad new
2 FREE services with all new Sniper 125
SIZE wise its perfect for all the family . OLDER kids - teenagers - Mam + Dad can all enjoy this quad
ELECTRIC start
The quad is also fitted with a very low noise, high quality four stroke engine (just like a car) so no messy oil mixing is required!
Fully auto 125cc air cooled engine + reverse gear
Wide axles & low centre of gravity for added stability
Front drum brakes & rear hydraulic brake
Aggressive style 8" off road tyres
LIGHTS
FULL speed regulator to walking pace for new to quad biking
Orion quad bike is so hugely popular for many years in countries like USA and is now becoming a brand leader in the UK and Ireland
ALSO has reverse
SEAT back for comfort
NEW MODEL FOR 2019 MUCKANDFUN PANTHER 110 ONLY €1295.00 now only €1099
THEY LOOK EVEN BETTER IN REAL LIFE
AMAZING VALUE ON €995.00
VERY HIGH QUALITY QUAD AT A GREAT PRICE
ALL new in time for Xmas the muckandfun Panther 110 cc kids quad bike
FULL spares backup quality UK brand built and tested by us in Wicklow
HUGE speck
FULL price is €1355.00 a real bargain in TIME FOR XMAS
FULL 1 year warranty
THEY look even better in real life
BUY with full expert backup and we even take them back for trade ins when you need something bigger
YOU GET two free services without time restrictions
Adjustable speed limiter - allows full parental control of top speed
Removable keys - no sneaky riding while you sleep!
Engine cut out switch
Parental safety lanyard (engine cut off chord)
Front bumper and rear chain guard
EEC CE Approved
THEY look even better in real life
fully automatic gearbox which features the proven 'rev & go' system which is very easy to use. IDEAL for ages aprox 6 to teenage years and even mam and dad can have a go
This is a proven quality quad bike. Please beware of poor copies and cheap unbranded Chinese quad bikes being sold on the internet
30MPH+ (FULLY RESTRICTABLE) to walking pace a real quad to last years
ORDER today get tomorrow
---------------------------------------------------------------------------------------------------------------------------------------------------------------------
LATEST 2018 MODEL! MINI QUADARD ULTIMATE FUN!!! ONLY €495.00 serious value for a new kids quad NOW ONLY €450.00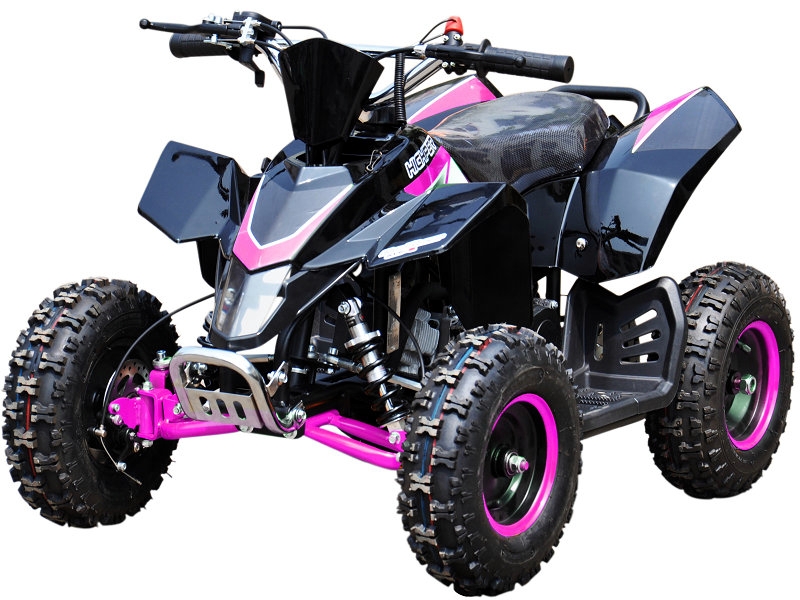 These litlle quads are built like thans and to last for years guaranteed . Here is some detilas . You may of heard of a mini moto, now the fun extends onto all four wheels with the new muckandfun.com Quadard. During the last 10 years mini motos have become a phenomenon. Not content with this 2-wheeled sales success, our manufacturer have applied their skills and designed the best mini quad there is to Muck and Fun speck .

We make getting your person quad bike is a safe affordable way and plus we have our year round savings club .
Key Features are as follows:


Upgraded Metal Pull Start

Restrictable Throttle

Full length Chain Guard

Front And Rear Suspension

Knobbly Tyres

Split Rim Alloys

Front and Rear Disk Brakes

Dimensions are: Length = 97cm / Width = 60cm / Seat height to footrests = 32cm / Seat height to floor = 44cm.

Despite the small size, it can be ridden by riders of all heights and can carry weight up to 70kg!

The Muckandfun.com Quadard has got to be one of the best fun products we have seen for a long time. It's easy to ride, simple to maintain and is an essential purchase for those excitement and thrill seekers everywhere.

The bike may be tiny but 'it's massive fun!.
and as always this mini quadard comes with a 100% guaranteed spares back up / free help / intermediate servcing .
THE PRICE YOU PAY FOR THIS UNBEATABLE MACHINE IS JUST €495.00 NOW €450.00
These ready to rock and fully P.D.I. / bult / tested so as soon as you purchase this bike its ready to use Other sellers supply in a box and you have to build . You be lucky if they drive for 5 mintues .
below is the various colors available to suit not just the kids but for all the kids who have not grown up
| | |
| --- | --- |
| Motor Size | 49cc |
| Brakes | Disc Brakes |
| Tyres | Off Road |
| Start Type | Pull Start |
| Fuel | Unleaded with Pre Mix Oil |
| Frame | Chromoly Steel |
| Clutch | Automatic |
| Suspension | Front twin shock - Rear monoshock |
| Gross Weight | 25 Kg |
| | |
| Top Speed | Approx 20 mph on tarmac, much slower on grass |
| Max Rider Weight | 60 Kg |
| Fuel Capacity | 1.5 Litres |
| Transmission | Forward Gear Only |
| Cooling | Air Cooled |
| Engine Spec | 2 Stroke - Single Cylinder |
| Seat Height | Seat to Footrests 30cm |
| Engine Type | Petrol Engine |
| Gears | Automatic |
| Kill Switch | Rocker On-Off |
| Restrictable | Throttle Restrictor |
| Safety Features | MIRA Tested |
| Suitability | 4 year to 10 aprox |
| Terrain | on or Off Road |
| Terrain | Tarmac |
| Throttle Type | Thumb Throttle |
| Upgradable Performance | Yes |
| Wheels | F: 4 inch - R: 4 inch |
irelnads best selling value 50 cc kids quad bike
ASSEMBELLED - TESTED - BUILT FOR YOU BY US
We stock every single spare part for this quad
This pocket sized, pocket priced gem is fabulous fun for kids AND adults!
25mph top speed, weight and terrain dependant (fully restrictable)
Robust twin clamped handlebars
Approx 1 litre fuel tank capacity
Supplied with tool kit and full warranty
GET THE FULL GEAR AT COST PRICE WITH MUCK AND FUN EXAMPLE BELOW LOTS MORE IN STOCK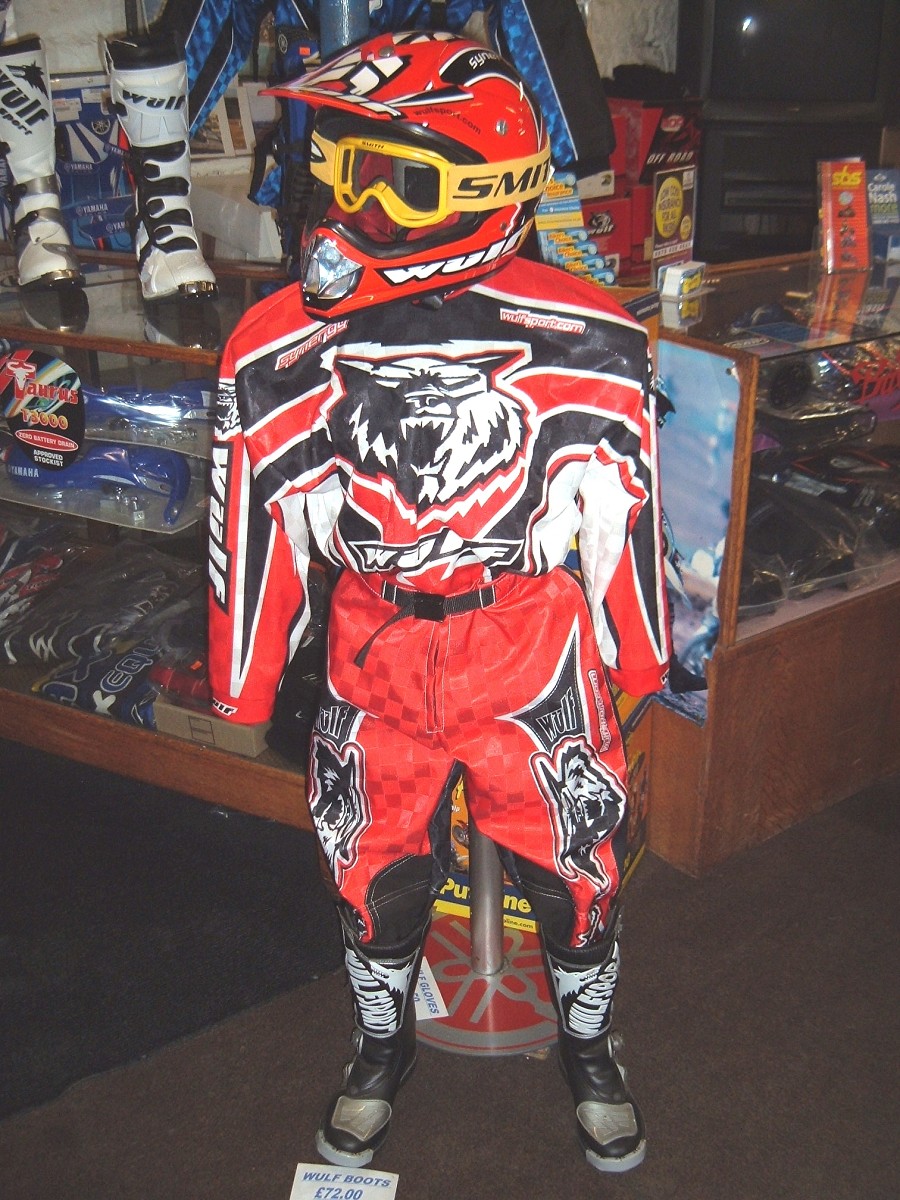 these are the all new 2018 Quadards exclusive to Muck and Fun
This is a very cheap way to start young people quad riding in a safe and quality way .
For cheap fun on 4 wheels a Quadard hits all the right notes ( ENJOY THE VIDEOS )
-----------------------------------------------------------------------------------------------------------------------------------------------------------------------------------------
NEW Kids Electric Quad (HIGHEST POWER IN IRELAND NOW ONLY €599.00
HIGHEST POWER ELECTRIC QUAD IN IRELAND 1000 WATT
STUNNING LOOKING KIDS QUAD
General Specifications
| | |
| --- | --- |
| SHOCK ABSORBERS | FRONT INDEPENDENT SHOCKS / REAR MONO SHOCK |
| SUSPENSION | INDEPENDENT WISHBONE FRONT / SINGLE SWING ARM - SOLID AXLE REAR |
| WHEELS | BLACK COATED STEEL RIMS - 6" FRONT & 6" REAR |
| BRAKES | HYDRAULIC SINGLE CALIPER REAR / REAR BRAKE DISC |
| TYRES | FRONT = 13 X 6 - 3.5 / REAR = 13 X 6 - 5 (OFF ROAD PATTERN) |
| FRAME | QUALITY CHROMOLY FINISH |
| SEAT | CUSHIONED SEAT = 510MM HEIGHT |
| DIMENSIONS | LENGTH = 1100MM / WIDTH = 620MM / HEIGHT = 680MM |
| CLEARANCE | 90MM |
| WEIGHT | 45KG |
Engine & Transmission Specifications
| | |
| --- | --- |
| ENGINE | LARGE CAPACITY 1000W - 36V - BRUSHLESS MOTOR |
| BATTERY TYPE | TRIPLE 12V 12AH - SEALED LEAD ACID |
| BATTERY RANGE | 45 - 120 MINUTES DEPENDING ON RIDER & TERRAIN |
| CHARGE TIME | 5 - 8 HOURS |
| TOP SPEED | SPEED 1 = 5MPH SPEED 2 = 9MPH = SPEED 3 (UNRESTRICTED) = 16 - 18MPH |
| START METHOD | ELECTRIC START - TURN KEY |
| BATTERY INDICATOR | BATTERY LEVEL POWER INDICATOR |
| TRANSMISSION | FULLY AUTOMATIC - FORWARD, NEUTRAL & REVERSE |
| DRIVE | CHAIN DRIVE |
| FINAL DRIVE | SOLID REAR AXLE |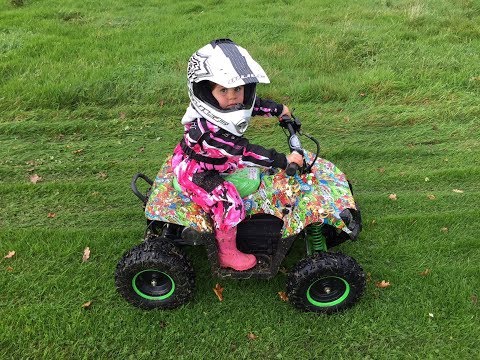 THE Highest Power Kids Professional Electric Quad IN Ireland BROUGHT to your BY muckandfun IRELANDS largest Kids Quads supplier
WE only do proper quads - Huge range of Kids quads
WE also another electric quad bit cheaper than this on our web site
THIS is our SHOCKWAVE 1000 watt
THIS is not a toy its the same Chassis tires wheels etc. as our PETROL version which start at €495.00
STUNNING Styling
UNBREAKABLE build quality built to last a life time
THIS is not a toy store quad its fast (can be slowed) - Built like a tank - Being electric very little can go wrong
FULL 1 year parts and labour warranty (Other shops 1 month or maybe 3 parts only)
1000w Motor the MOST powerfull on the market
Smooth 'twist grip' throttle on the handlebar
Wide axles & low centre of gravity for added stability
Chunky off road tyres
GO anywhere ability
Adjustable speed limiter with a variable top speed of around 5mph, 9mph or 18mph you decide
VERY low noise so can be used in more places
CE Approved product - Supplied fully assembled
Rear hydraulic disc brake
Front bumper and rear chain guard
Foot wells - keeps little feet out of trouble
-------------------------------------------------------------------------------------------------------------------------------------------------------
THE best QUADZILLA Buzz 50 €1295.00 2 YEAR WARRANTY
THE BEST QUALITY-SPECK KIDS QUAD ON THE PLANET
EVERY SAFETY OPTION ALL STANDARD
LOOKS EVEN BETTER IN REAL LIFE
ONE of the best new 50 cc QUADS you can buy
FAMOUS all over uk and Ireland
QUALITY brand built to last a life time
2 YEAR warranty says a lot abut the quality
GREAT value for a quality machine
SPEED regualator so you can slow to walking pace and then increase the speed as they learn
COMES with remote control
2 YEAR parts and labour warranty
HAS lights
ELECTRIC start with back up kick start
FULL safety foot wells
LOOKS stunning in real life
THE best quality kids quad for sale in Ireland
VERY famous quad
TRAINING rope to rear
THIS quad ticks every box
--------------------------------------------------------------------------------------------------------------------------------------------------------------
QUADZILLA R 100 (Best kids sports quad) €2000.00 NOW ONLY €1795.00
2 YEAR WARRANTY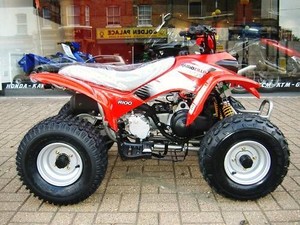 BUILT TO LAST A LIFE TIME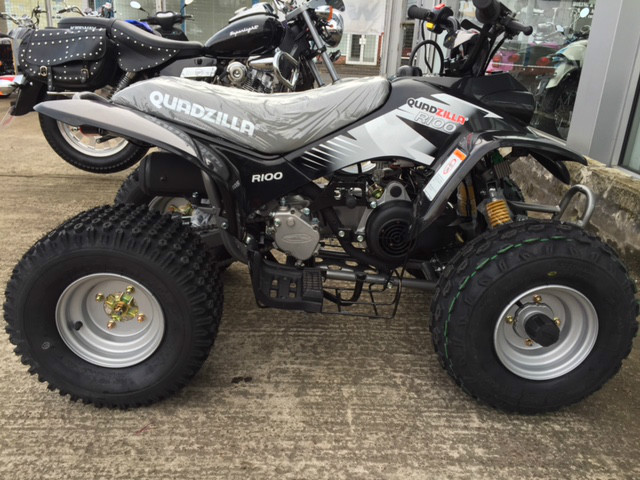 VERY FAST QUAD BUT YOU CAN SLOW TO WALKING PACE
UK best selling 100 cc SPORTS kids quad
Originally sold by Honda Ireland for €2600.00 which says a lot about its quality
Usual full 1 year warranty and designed and proven to last a life time.
Suits children from around 9 years old straight through to adults.
Fully Automatic with Reverse
Speed regulator (fast quad you can slow to walking pace
Lights
Highly recommended great all round family fun and good enough for Irelands Quad junior racing circut
100 cc Engine
Fully Automatic
Electric and Kick Start
Adjustable Shocks Front & Rear
Drum Brakes all Round
Safety Footwells
Safety Wrist Tether
Fully Restrictable
12 months Parts & Labour Warranty
CE Approved
---------------------------------------------------------------------------------------------------------------------------------------------
QUADZILLA Pure Sports 100 cc (PRO SHARK-RACE SPECK ENGINE) €2195 now € 1999.00
2 YEAR WARRANTY
OVER SIZE QUAD SO SUITS KIDS/TEENAGE/MAM+DAD
FASTEST 100CC KIDS QUAD ON THE PLANET
THE all new QUADZILLA Pro Shark 100 cc sports junior quad bike
Used 1 in stock also
SIMPLY the best 100 cc quad for sale in Ireland
NOTHING comes close to its sports 100 cc performance based liquid cooled race engine
THIS quad has won every single Race in Ireland - Uk - USA
THE benefit of getting such a powerful engine is you can go proper quad biking . Up and down hills - The beach - Donuts it has the power to carry even an adult at fast speed . But best of all has a speed regulator so you can slow all the way down to walking pace
BUILT like a tank to last a life time
ELECTRIC start wit BACKUP up kids start
SPORTS exhaust
LIGHTS
SAFETY foot wells
THERE is even a version of this that is near €5000.00 shows you what this quad is capable of
WE sell every kids quad know to man kind and this LEAVES the rest dead in the water
ITS also a little bigger than normal meaning teenager will love it
COMES with full 2 year warranty
WE do a smaller version called the R 100 which is €1895.00 and we do a 50 cc kids version for €1175.00
KIDS Electric quad professional (800watt) € 485.00
CALLED our Quadard electric version of our petrol quad
NO NOISE FOR THIS QUAD
Three Disc Brakes
Longer Wearing Tyres
Rear Axle Safety Cover & Strengthening Bar
SAFETY foot switch
Multiple settings for speed control. 5, 8 and 13mph
Not only CE approved but also MIRA tested to UK standards
MUCKANFUN offer a full backup service THE best there is
Three high grade shock absorbers giving a smoother ride and weight management. Weight Limit 65kg, over 9.5 st
Power – 800w 36v Motor – High power reliable motor upgraded from the standard 350w and 500w.
NEW YAMAHA YFZ 50 € 2500.00
TOP OF THE RANGE 50 CC
2 YEAR warranty
2 FREE services
DEPOSITS welcome
HOME delivery natiowide
FINANCE over 12 - 24 - 36 months
VERY high quality kids quad
Beginner-Friendly Four-Stroke Performance
The YFZ50™ is engineered as the ideal starting point for aspiring ATV riders aged 6 and up, with a low-maintenance 49cc engine tuned to develop responsive, controllable performance.
A combination of engine limiters and a power cut-off tether switch make it easy to allow young riders to adapt to the ATV as their skills grow.
Reduced Maintenance Design
Servicing is simple, too, thanks to features like the tool-less quick-access air filter element.
Scaled Down, Not Scaled Back
Single A-arm front suspension is tuned for light, easy steering and comfortable ride quality. The rear swingarm also features a compact single shock for good control and comfort. It also boasts convenient features like a fully automatic CVT transmission and electric start with a back-up kickstart.
Comfortable Chassis
A robust steel frame design incorporates a large 1.5 gallon fuel tank, plush seat and roomy integrated floorboards.
YAMAHA YFM 90 € 2900.00 € 2900.00
TOP OF THE RANGE
DEPOSITS welcome
HOME delivery nationwide
FINANCE over 12 - 24 - 36 months
VERY high quality kids quad
Yamaha YFM 90 Quad
New
Electric start
Chain Drive
2WD
Reverse gear
Parking Brake
Automatic Transmission CVT
Throttle limiter
Hydraulic disc brakes
BUILT to last a life time
STUNNING quad
-----------------------------------------------------------------------------------------------------------------------------------------------------------------------------
CLICK ON ABOVE PICTURE FOR QUADZILLA AND OUR PREMMIUM RANGE
----------------------------------------------------------------------------------------------------------------------------------------------------------------------------------------------------
XMAS CLUB € 100.00 TO JOIN / PRICE SUBJECT TO CHANGE / SPECK SUBJECT TO CHANGE WITH MANUFACTURERS